PowerPay puts you in control. You can pay as little or as much as you wish, whenever you want.  Best of all, with PowerPay there is no deposit required and no credit check, no late fees - no more surprises on your monthly bill.  MEC members currently on PowerPay report a high level of satisfaction with the program and statistics indicate that participants in prepaid utility programs tend to reduce their consumption because they are more aware of how they are using their utilities.
A signed PowerPay Service Agreement is required.
Already have a PowerPay Account? Click on myusage.com icon below to view usage and balance information:   
Log into your PowerPay Account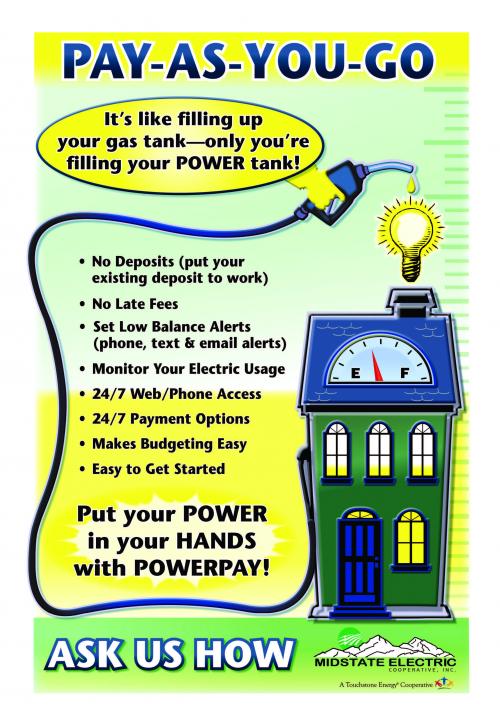 No.  As a PowerPay Program member there is no need for a deposit since you keep a credit balance on the account (you pay ahead for service). 
If you are currently on standard billing and have a deposit on your account, you are eligible to have your deposit refunded and applied toward the current energy costs if you convert to the PowerPay Program. 
No.  Because you keep a credit balance on the account (you pay ahead for service), there is nothing to bill you for.  You can call (877) 775-5869 or log on to www.myusage.com to check your account balance and usage at any time. 
PowerPay members choose how they are notified when their balance is running low.  Notifications can be received via email, automated calling service, or text message.  Each member chooses the balance at which they begin to receive notifications.  You can also check your balances by calling (877) 775-5869 or logging on to www.myusage.com.
Your meter is read once a day (usually in the early a.m. hours).  Therefore, your account can fall into a negative balance once your reading is registered.  If your account goes negative, you will have until the next business day before 9 a.m. to make a payment. 
There are two sides to our system.  The PowerPay (prepaid) side and the standard billing side.  Our automated system defaults to the standard billing account balances.  Meaning, it is only keeping track of payments and not daily usage.  For accurate account balances, PowerPay members will want to call (877) 775-5869 or log on to www.myusage.com.
If you run out of money on your account, the meter will shut off.  However, it only takes a positive $10 credit toward future power to get the meter to turn back on and it usually connects within 30 minutes of your payment.  There are no disconnect, reconnect or late fees!
No.  This is the beauty of being a PowerPay Program member, you never pay late fees and are not charged disconnect or reconnect fees if the account runs out of money.  You also do not get additional security deposits added to your account like you would on standard billing.  You simply need to have a credit balance of $10 toward future power to get the meter reconnected.
Payments can be made at our office, online or by telephone. 
No.  There is currently no way for us to auto-debit a card each month since there is not technically a "balance due" on your account.  You can however, save a card number to your account and manually make payments online through SmartHub. 
The program is entirely optional.  New or existing members may choose to participate in the PowerPay Program.  Call Member Service at 541-536-2126, Option 3, for details.