MEC, in conjunction with other Touchstone Energy cooperatives around the country, has developed the Co-op Connections program to deliver more value to members and promote participating businesses.
Introducing the Co-op Connections program
All MEC members receive a free Co-op Connections Card and a list of participating local and national businesses.  
This program gives participating businesses exposure to our 17,000+ members and millions more serviced by our fellow Touchstone Energy Cooperatives. 
The list of participating businesses will be provided to all MEC members.  These businesses are also posted on the web.
Co-op members are encouraged to shop at participating businesses through promotions in our newsletter, newspaper ads, bill stuffers, etc.  
The card features MEC's important information and website.  
The program is FREE to participating businesses.  
Here are examples of typical business discounts:  
20% off all products!

Free appetizer!

$10 off any cleaning!
Here's how the card works:  
All MEC members automatically receive Co-op Connections cards!  When they show the card, the mobile app, or a coupon at any participating business, they receive a discount.  It's that easy.  
All participating businesses have the choice to opt out of the program at the end of every year.  
If your business would like to sign up for this valuable program, please can click HERE for application.
For more information, contact the Marketing Department at (541) 536-2126, Option 5.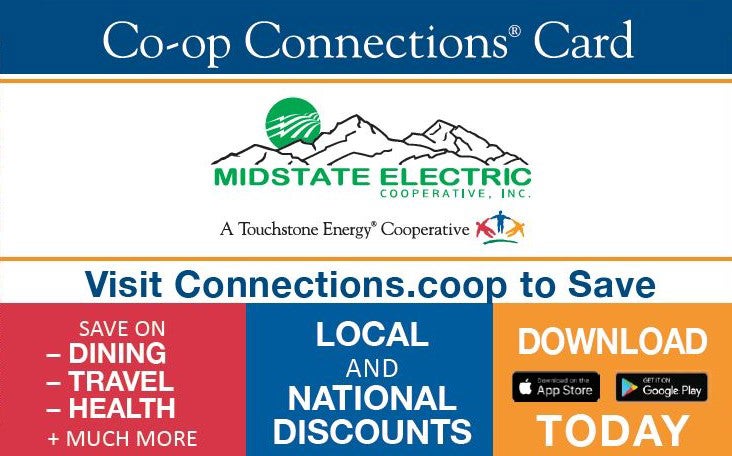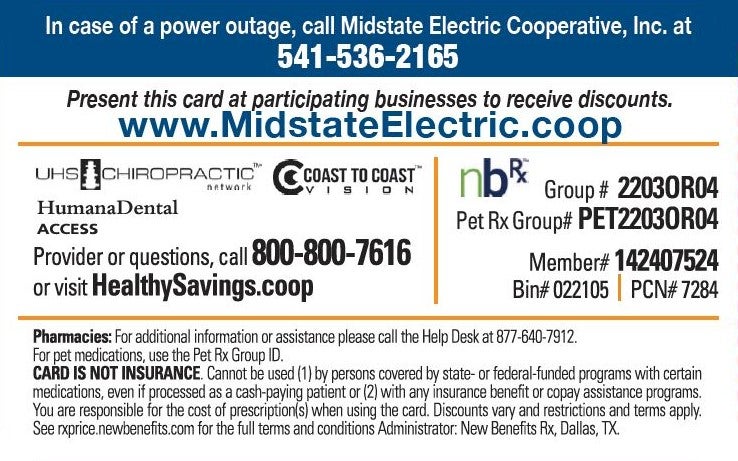 Co-op Connections FAQ
All Midstate Electric members are encouraged to shop at participating businesses through social media, our website and other communications materials. It's great free advertising for your business. 
The program allows members to see participating businesses through the mobile app, print coupons straight from their phone or computer and receive deals from national and local businesses.  
Visit www.connections.coop to see all of the money saving deals and to shop online. The free mobile app uses GPS to pull nearby discounts. If you join, your business will be listed in both places. 
Midstate Electric members will show a plastic Co-op Connections card, print a coupon or redeem the discount on their phone. 
Yes, Midstate Electric will provide you with a register sticker or window cling that says "I'm a participating business."
Membership has benefits and this free program helps them save money on everyday expenses. From prescription discounts to meal & hotel deals, it's the One Card That Does It All®. 
 
Midstate Electric can provide you with reporting for your business so you can track redemptions, manage limited time offers and more. 
No. This a member benefit brought to you by Midstate Electric as part of our Commitment to Community. 
If you would like to join, please return the participation form to us and we will post your deal to the connections.coop website, application, and other marketing materials. If you have any questions, please call 541-536-7220 or email khannon@mse.coop.