Standard Billing
Power is used and then billed the following month.  A credit check is performed to determine if a deposit is required. If a deposit is required it will be 2 or 3 times the highest monthly bill for that service location's previous 12 month's historical usage. If the account becomes past due or is disconnected for nonpayment, late, disconnect and reconnect charges apply. 
Payment Due Date - The payment due date will be the 20th day after the bill date as referenced on your bill.
Past Due Payments - Your account will be considered past due if your payment is not received before your next billing statement is processed. Accounts that are past due will be charged a late fee of 1.5% or $5.00, whichever is greater.
Five past dues within the past twelve months and a disconnect notice for non-payment, or an actual disconnect, will require an up-to-date security deposit which will be added to the past due amount.
PowerPay (Prepaid Billing)
PowerPay puts you in control. You can pay as little or as much as you wish, whenever you want.  Best of all, with PowerPay there is no deposit required and no credit check, no late fees - no more surprises on your monthly bill.  MEC members currently on PowerPay report a high level of satisfaction with the program and statistics indicate that participants in prepaid utility programs tend to reduce their consumption because they are more aware of how they are using their Energy.
A signed PowerPay Service Agreement is required.
Budget Billing
If you have been a member of Midstate Electric for 12 months or more, you may qualify for the Budget Billing Program. Budget Billing adds your last twelve month's electrical usage together to arrive at an estimated electric bill; the estimated electric bill is then divided by twelve to calculate your monthly budget bill amount. Budget accounts will recalculate in November, although accounts with larger balances may require more frequent review. You also have the opportunity to save 1.5% by paying your bill within 10 days of the billing date. With Budget Billing, your budget payment will stay the same all year long, thus helping to minimize the impact of winter bills.
What Type of Billing is Right for Me?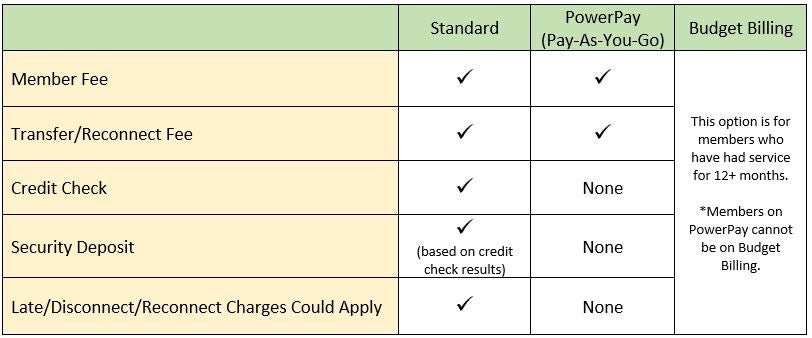 For more information, please call our Member Service Department at 541-536-2126 or 800-722-7219, option 3.